HORSES FOR SALE
---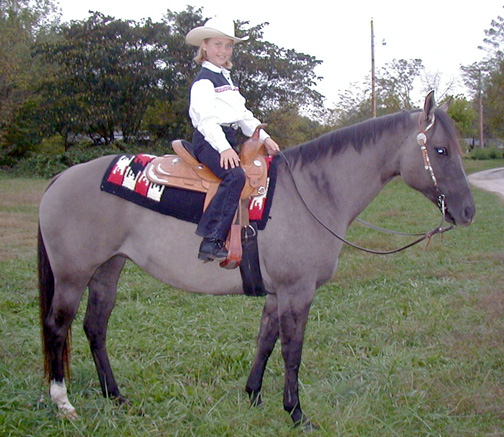 Glorious Grace

"Glory"


Glory was sold to Annette Hauzel of Weilburg, Germany in 2005. There, she joined the brood herd of a grullo AQHA foundation-bred stallion, then later was bought by German photographer Ilse Sidon. As of 2010, Glory had borne four foals in Germany.


Glory sports that rare grullo coloring which has turned plenty of heads at the horse shows and parades. She has strong dun-factor markings: dorsal stripe, leg striping, and shoulder patches.

Ridden by our daughter (at ages 9 and 10), Glory won ribbons at the local shows every time we took her out.

She had 3 months of professional training, which has included extensive trail riding and some western pleasure arena work as well. She has a winning jog, so she does excellent in the walk-trot category, but does not compete well in loping classes.

Glory passed her dun factor to many of her foals. Her first colt, Kister, is a seriously handsome golden dun, and in 2003 she had Genie, a beautiful pale buttermilk dun filly. In 2004, Glory had Topnotch Grace (see photo below), a lovely filly who at first appeared to be bay, but she shed out into a dark dun with an obvious dorsal stripe. In 2005, while in Germany, Glory had Felix, a pale dun stallion.

Glory is lab-confirmed as homozygous for black legs, so she'll never throw a sorrel or chestnut foal. She has foundation-type breeding; on her sire's side, it's not that far back to Wimpy and Old Sorrel, and on the dam's side, to King and Skipper W. Glory is double registered with AQHA and ABRA (American Buckskin Registry Association).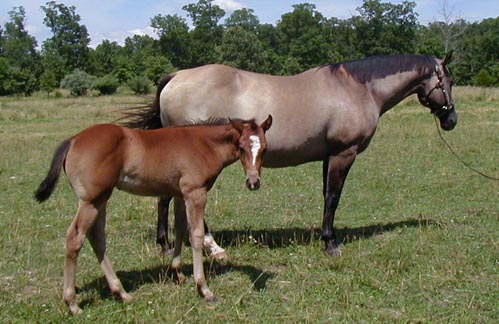 Name: Glorious Grace
Sex: mare
Birth date: May, 1996
Price: $2,700
Color: grullo
Markings: strip, right hind sock
Height: 14' 1"
Weight: 1000 lbs.
Sire: Bayo Lake
Dam: Brixey
AQHA registration: 3528435
ABRA registration: T-15076

Top photo taken at age 6
Photo just above taken at age 8
(Grace is two months old)
Photo at left taken at age 5

Glory's foals
(click on picture for more photos and information)

Kister


2002 golden dun gelding


Genie

2003 buttermilk dun filly

Grace


2004 dark dun filly


Felix

2005 pale dun stallion

Glory's pedigree
| | | | |
| --- | --- | --- | --- |
| | | | Mr. Kleberg |
| | | Juan Lake | |
| | | | Peseta Rosa |
| | (sire) Bayo Lake | | |
| | | | Trinidad |
| | | La Mota 15 | |
| | | | Sancho Lady 5 |
| | | | |
| Glorious Grace | | | |
| | | | |
| | | | King Yo Yo Reed |
| | | Hustler Yo Yo | |
| | | | Hank's Hustler |
| | (dam) Brixey | | |
| | | | Pawnee Bay |
| | | Miss Danity Skip | |
| | | | Danity Rockette |
---