HORSES FOR SALE
---
Topnotch Grace

"Grace"
2004 bay dun AQHA mare

Name: Topnotch Grace
Sex: mare
Birth date: April 28, 2004
Price: $1,400
Color: dark dun
Markings: blaze
Sire: Zip to the Topnotch
Dam: Glorious Grace
AQHA registration: 4567263

As of 6/25/10
Height: 14' 3"
Weight: 1075 lbs
About Grace - July 2010

Grace is a really pretty mare, nice build, and a really nice trail horse.

She was trained for Western Pleasure, but never developed a truly competive slow gait or headset at the lope. Her jog is quite good.

For the video, we pulled Grace out of the pasture after she hadn't been ridden for quite a while, longed for for a few minutes, and then Clara got on her and we started taping without any real practice. Clara had never ridden Grace before, so you can see they did pretty well.

Grace loads easily, stands for the farrier, bathes, and has overall good manners.

She is just a good, solid, healthy, sound and pleasant horse.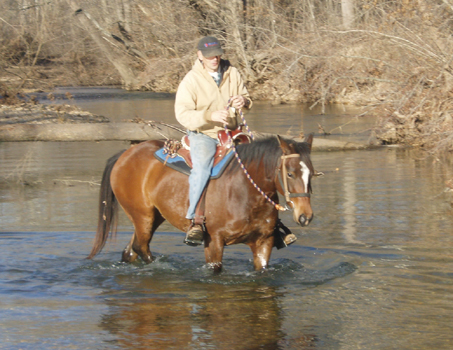 Progress report, written Spring 2007


This is a really nice young mare. We think she'll prove to be well-named, as she's quite a graceful mover.

Grace has a chunky build and wide chest typical of ranch-bred and foundation quarter horses. With that is agility and good movement at the lope. She has plenty of energy and is not a bit lazy.

Grace completed 30 days at the trainers this past winter, and she's really looking good. She's got the nice jog with a good head set, and consistently gets her leads at the lope.

We recently hauled Grace to her first trail ride and she made us proud, as she was great in the woods, crossing water and acting like an old pro, not worried about leading, following, or being in the middle.

Photo above: Gary Thomlinson riding Grace through Indian Creek in January 2007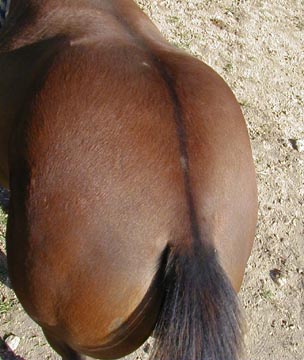 Grace basically looks like a bay, but she has a distinct dorsal stripe, showing that she inherited her mother's dun factor. Her dam is Glorious Grace, our grullo mare who went to Germany. Grace's only white is the blaze.

Photo at right: dorsal stripe, four months old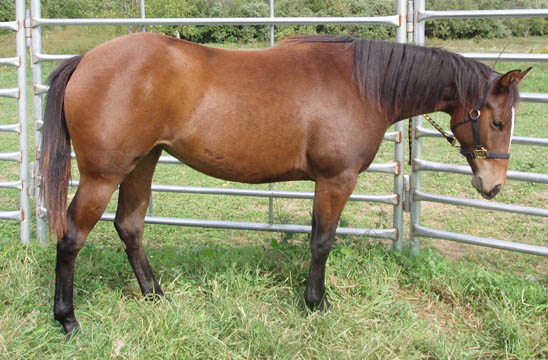 Photo at left: 17 months old
Grace's pedigree

---
| | | | | |
| --- | --- | --- | --- | --- |
| | | | Zippo Pine Bar | |
| | | Mr. Rusty Zipper | | |
| | | | Madame Tiffany | |
| (sire) | Zip to the Topnotch | | | |
| | | | Topnotch Sonny | |
| | | Sassy Topnotch | | |
| | | | Sunny Eternal | |
| Topnotch Grace | | | | |
| | | | Juan Lake | |
| | | Bayo Lake | | |
| | | | La Mota 15 | |
| (dam) | Glorious Grace | | | |
| | | | Hustler Yo Yo | |
| | | Brixey | | |
| | | | Miss Danity Skip | |
---