HORSES FOR SALE



---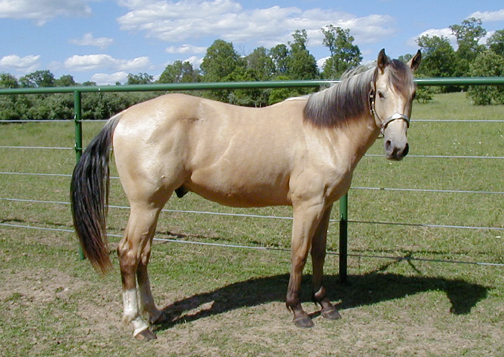 Zorro has been sold. Many thanks and best wishes to Allen and Annetta Pemberton of Clarkton, Mo. The Pembertons bought He Dun Kister in April, and came back in September for a second horse from us. We're pleased they liked the first one so well, and thrilled that Zorro will be in a good home, and back with his old pasture mate Kister.

Zipnzorro
Zorro, a breathtaking buttermilk buckskin, is about the most easy-going young horse we've ever met. He's had a little over 30 days training, and he's very mellow- mannered, cooperative and eager to please.
Zorro has been around. We've hauled him to three trail rides, to town to ride on the streets, to two horse shows, and ridden in a horse-crowd in an indoor arena.
None of it seems to bother him. He's been ridden in the dark, didn't mind a loud train passing nearby, or cattle, or cars, or dogs, or plowing belly-deep through a creek, or people target practicing. He does it all without hesitation or acting silly.

When he was two, our daughter (11 at the time) rode Zorro on a 7-mile trail ride with no problems. She has also practiced showmanship with him, and he'll stand up square, trot beside, and pivot for her. He is very patient, and will stand still for her to show him. He already becoming consistant, as he has been well-behaved every time he's been out on the trail this past season. With his calm nature and willing attitude, we think this boy has fantastic potential.

Zorro is registered with both AQHA and ABRA (American Buckskin Registry Association), so he is eligible to show at buckskin shows. See photos of Zorro under saddle at A Day on the Trail.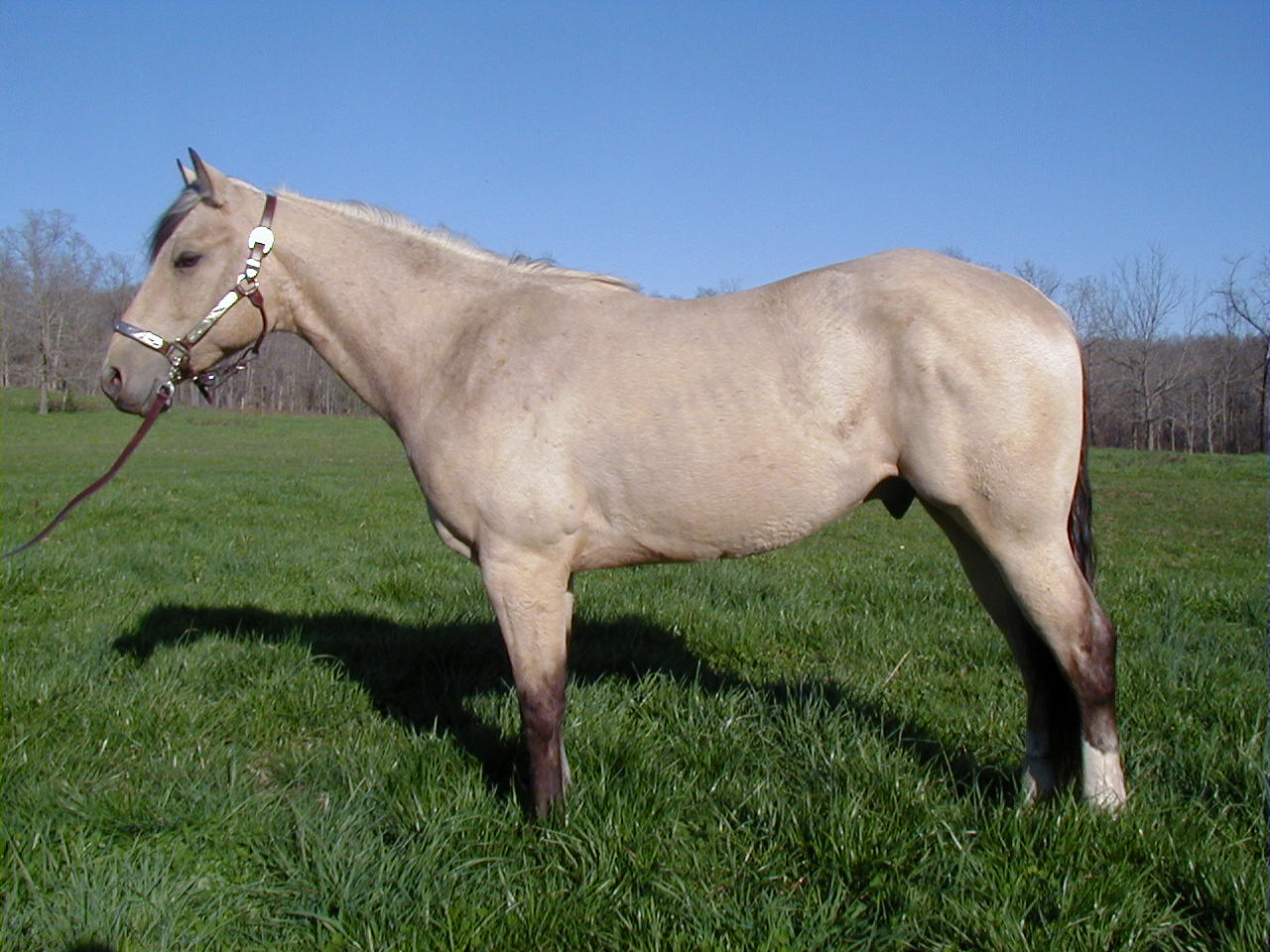 Name: Zipnzorro
Sex: Gelding
Birth date: June 2001
Price: $1,800
Color: buttermilk buckskin
Markings: hind stockings, star
Sire: Zipnzanza
Dam: Brixey
AQHA registration: 4142645
ABRA registration: P-15077

Age in top photo: 26 months
Age in photo at right: 34 months

Height: 14'2"
Weight: 850 lbs





Zipnzorro's pedigree
| | | | | |
| --- | --- | --- | --- | --- |
| | | | Zanza Bee | |
| | | Deacons Zanza Bee | | |
| | | | Deacons Jackie | |
| | Zipnzanza | | | |
| | | | Pines Zippo Bars | |
| | | Zippo Dahn Bar | | |
| | | | Little Lady Too | |
| | | | | |
| Zipnzorro | | | | |
| | | | | |
| | | | King Yo Yo Reed | |
| | | Hustler Yo Yo | | |
| | | | Hank's Hustler | |
| | Brixey | | | |
| | | | Pawnee Bay | |
| | | Miss Danity Skip | | |
| | | | Danity Rockette | |