VIDEOS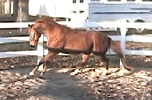 Zip to the Topnotch - This video shows "Rusty" moving freely in a round pen at a trot and a lope. He has not been ridden for many years, so the tape shows his natural gaits, not gaits that have been developed through training. Produced January 2005
Viewing time: 1:04 minutes.
Size: about 10 megabytes.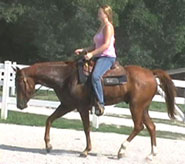 Inquisitive Zip Kat - This two-year-old gelding demonstrates a nice headset, rhythmic jog, and naturally smooth lope, even after only about one month's training. Sire: Zip to the Topnotch. Produced July 2006.

Viewing time: 59 seconds
Size: about 18 megabytes.

Digital videotapes are huge files. Our videos have been downloading in just a few minutes for those with DSL lines, but they can take a very long time with a regular phone line connection.