TOPNOTCH CADENCE


2003 sorrel mare


Daughter of Zip to the Topnotch
Incentive Fund enrolled


TOPNOTCH CADENCE HAS EARNED MANY AWARDS SINCE 2007

SEE HOME PAGE FOR PREVIEW OF ACCOMPLISHMENTS

THIS PAGE UNDER RECONSTRUCTION

NEW PHOTOS AND VIDEOS COMING SOON

For purchase inquiries, call or email numbers on home page



Photos and entries below from Spring 2007 and earlier




Going through the gate

Turning in the box

Crossing the bridge


Topnotch Cadence, age 3, and rider Clara Vaughn, 13, compete in Novice Youth Trail at the
May 2006 AQHA show in Carthage Missouri.
Topnotch Cadence



First Place

Youth English Hunt Seat
First Place English Equitation

at the
Multi-State Stock Horse Invitational Championship

September, 2006, Carthage, Missouri.

Ridden by Clara Vaughn,

the three-year-old mare also placed third in three other events: Junior Western Pleasure, Youth Western Pleasure 13 & Under, and Horsemanship.

The show drew year-end high-point competitors from 14 horse show associations across Missouri, Kansas, Oklahoma and Arkansas.



Topnotch Cadence won an
AQHA ALL-AROUND TROPHY
in the Open Division as a two-year-old, at her first AQHA breed show.


In open classes, the mare showed in 2-Year-Old Snaffle Bit Western Pleasure, Junior Trail, and 2 year-old halter mares.

Novice Youth Classes included Trail, Western Pleasure, and Horsemanship.

All-Around Trophy
November 2005


Clara and "Topsy" at the AQHA show in
Columbia, Mo, November 2005



As a three-year-old, Topnotch Cadence and rider Clara Vaughn competed as an all-around team, riding in both English and Western events. They earned several AQHA points, and in the open shows they took home a large collection of blue ribbons and several hundred in cash prizes, culminating with the wins at the
Multi-State Invitational Championship show.

The mare was injured and had to be sidelined for the 2007 show season, but a comeback is planned for 2008.


This teenager has been an active participant in this mare's training from the very beginning.
It takes a good-minded horse to be shown as a two and three-year-old by a Novice Youth, and this mare's disposition is consistent with other Zip to the Topnotch offspring.



Notes from Topnotch Cadence's Youth
-written when she was two years and under-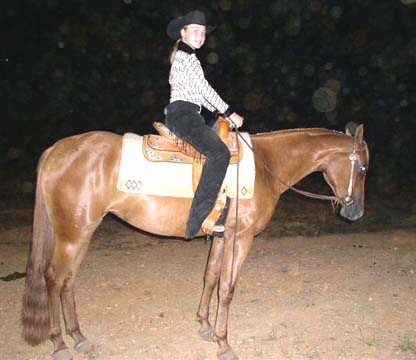 What a delight to take a two-year-old to a horse show and never have her act up or get spooked, and to focus on her performance like she had been doing it all her life.

This filly did just that on the night this photo was taken, at the West Plains, Missouri, Pioneer Saddle Club open show in August 2005.

Ridden by Clara Vaughn, 13 (in photo) and Amanda Mayers, 19, she placed in every one of her four western pleasure classes against big fields of competition, and in one class placed second, following a horse that frequently wins at big AQHA breed shows.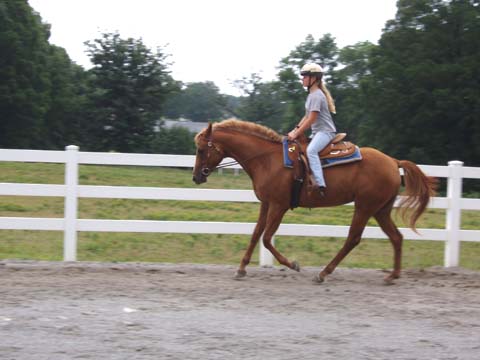 Photo above and at right:
Age: 27 months


This practice-session photo shows this filly's deep hindquarter reach at the lope, a trait that gives her power and grace at that gait.

With this deep, slow lope, she really lives up to her name of Topnotch Cadence. Given her quick-learning mind, excellent movement, and wonderful disposition, we think she'll be ready for the all-around classes for her three-year-old show season!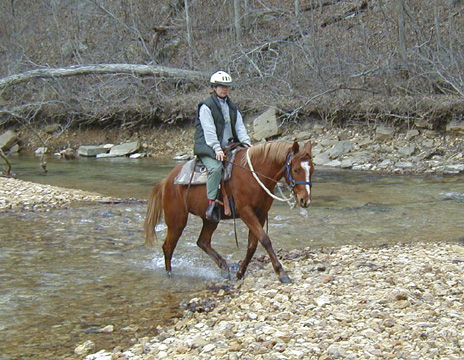 The photo at left was taken January 27, 2005, when this filly was just 22 months, with maybe a dozen rides on her, all ridden by my daughter Clara, then 12 years old. On this day, she was hauled in a strange trailer with a strange horse to a strange place. Given those conditions, and being my first ride on her, I thought a helmit a wise precaution. But honestly, it was a wonderful, non-eventful ride. She
walked right into the creek, she led the way, followed nicely, and never got spooked.

This filly's easy-going disposition and fine mind are consistent with Rusty's other offspring. You know you've got good minds when an 11/12-year-old girl can break two of his babies two consecutive years. And her gaits come so naturally. The first time Clara loped her, she said, "Wow, she's smooth." That was with no training. You should see her now!

- Denise Vaughn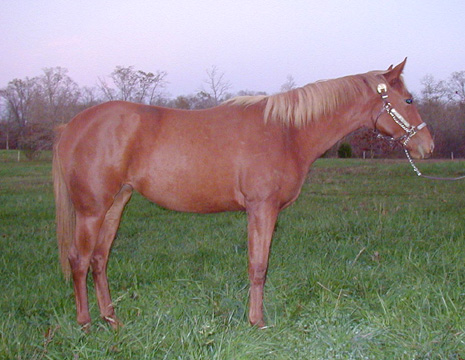 Photo above:
Age: 22 months
Height: 15' 1"
Weight: 875 lbs
Photo at right:
Age: 19 months
Height: 14' 3"
Weight: 800 lbs


Topnotch Cadence's Pedigree

| | | | | |
| --- | --- | --- | --- | --- |
| | | | | Zippo Pat Bar |
| | | | Zippo Pine Bar | |
| | | | | Dolly Pine |
| | | Mr. Rusty Zipper | | |
| | | | | Baruendo |
| | | | Madam Tiffany | |
| | | | | Rusty Bailarina |
| (sire) | Zip to the Topnotch | | | |
| | | | | Sonny Dee Bar |
| | | | Topnotch Sonny | |
| | | | | Nosey Susie |
| | | Sassy Topnotch | | |
| | | | | King Eternal |
| | | | Sunny Eternal | |
| | | | | Dixie Delmineo |
| Topnotch Cadence | | | | |
| | | | | Zippo Pat Bar |
| | | | Zippo Pine Bar | |
| | | | | Dolly Pine |
| | | Kat Man Zip | | |
| | | | | Tomcat Dude |
| | | | Hilltops Kitty Kat | |
| | | | | Boaz Daisy |
| (dam) | Lupes Cash Kat | | | |
| | | | | Spot Cash |
| | | | Silver Cash | |
| | | | | Sassy Nick |
| | | Miss Cash Harris | | |
| | | | | Showdown |
| | | | Showkandy | |
| | | | | Miss Fizz |