HORSES FOR SALE


---
Polly Topnotch

"Polly"
2005 AQHA mare
Sire: Zip to the Topnotch


Two on-line videos available




Polly was sold to Danna Cornell, West Plains, Mo., in 2008. We're hearing good reports of her continued quiet disposition and enjoyable trail rides with her.




| | | |
| --- | --- | --- |
| | | |
| Above photos: At 27 months old, with about two months training | | Rider: Amanda Mayers. Polly quietly crosses "bridge," trail obstacles |
See on-line video taken
when Polly won the very first class she ever entered, at her very first horse show! (1 minute)

Ridden by trainer Amanda Mayers, Polly took the blue ribbon among five competitors in Junior Western Pleasure at the South Central Horse Show Association open show held July 7, 2007 in Mtn. View, Missouri (see in above video). Later that day, ridden by Clara Vaughn, 15, Polly also placed second of six in Youth Western Pleasure, age 14-18. These wins come at age 26 months after only a little over 30 days training.

| | | |
| --- | --- | --- |
| | | |
| At the horse show, July 2007 | | Approaching trot-overs, August 2007 |

Polly's progress report, September 2007


A month after Polly's first wins, Clara Vaughn showed her again, taking first in Junior Western Pleasure and second in Youth Pleasure 14-18 at the SCHSA open show held August 4 in Hartville, Mo, winning against bigger fields of competion, with 8 and 10 in the two classes, respectively.

Polly is extremely quiet and easy-going, which was probably a big factor in her being able to go in and win on her first showings. She just doesn't get too upset about anything. I can't tell you how rewarding it has been to show Polly this summer. We did three shows in all, and by the third one, she had learned the ropes and was just as easy to deal with as our other show mare (a "veteran" at age four). Polly loads every time, even in the dark. She backs out of the trailer, and stands tied to it quietly, without nickering when her buddy leaves to go show in a class. In the ring she remembers what she has learned at home and isn't overly rattled by the crowd.

This mare is going to make an ideal ride for someone who wants to both trail ride and go to open shows. We haven't trail ridden her yet, but I have no doubt that she'll be just as relaxed on the trail as in the show ring. She has grown up in the woods, so its a more natural environment for her than going to town. She could easily be a 4-H project horse, as her quiet disposition should lend itself to a youthful rider.

First video: This video (same one as link above), showing Polly winning at the horse show, was taken in early July. She has progressed quite a bit since then, particularly at the lope. (1 minute)

Second video: Shot in in mid-August, this video is up-to-date with improved talents, such as sidepass, pivot, turn on the forehand, trotting over poles, weaving cones at the jog, and loping over a pole. (2 minutes)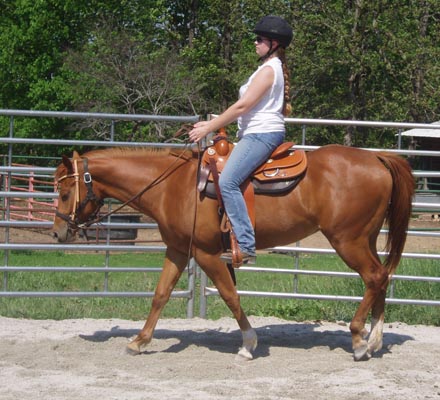 Entry written February 2007



Talk about an easy project. Polly has been so pleasant to train that each new step just seems like an extension of our normal routine. Totally cooperative and quiet minded, Polly should be a natural in the show ring, which is our plan for her this coming summer.

Right now (February 2007) Polly longes, loads, ties, backs, etc. She has only been ridden one time, but that was a no big deal event. That day, she walked, trotted, turned, backed, and dropped her head. She
doesn't mind clippers.
She is shod and at not yet two years of age, she stands quietly for the farrier (I'm not exaggerating).



Photo at right: Spring 2007, ridden by Amanda Mayers during one of Polly's first training rides.





As of May 2007
Height: 14' 3" hands
Weight: 900 lbs.




Photo below: five months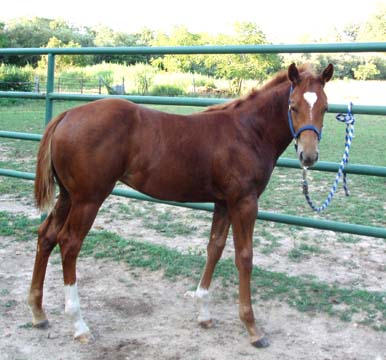 Name: Polly Topnotch
Sex: mare
Birth date: April 20, 2005
Price: $2200
Color: sorrel
Markings:
big star,
left front sock,

right rear stocking
Sire: Zip to the Topnotch
Dam: Lily Cash Kat
AQHA registration: 4731555
Enrolled in AQHA Incentive Fund

HYPP: N/N


Polly Topnotch's pedigree

| | | | | |
| --- | --- | --- | --- | --- |
| | | | | Zippo Pat Bar |
| | | | Zippo Pine Bar | |
| | | | | Dolly Pine |
| | | Mr. Rusty Zipper | | |
| | | | | Baruendo |
| | | | Madam Tiffany | |
| | | | | Rusty Bailarina |
| (sire) | Zip to the Topnotch | | | |
| | | | | Sonny Dee Bar |
| | | | Topnotch Sonny | |
| | | | | Nosey Susie |
| | | Sassy Topnotch | | |
| | | | | King Eternal |
| | | | Sunny Eternal | |
| | | | | Dixie Delmineo |
| Polly Topnotch | | | | |
| | | | | Obvious Conclusion |
| | | | Obvious Prophet | |
| | | | | How D Poco Lynn |
| | | PJ Prophets Go Lucky | | |
| | | | | Sonny Go Lucky |
| | | | Prettier Than | |
| | | | | Sweeter Than |
| (dam) | Lily Cash Kat | | | |
| | | | | Zippo Pine Bar |
| | | | Kat Man Zip | |
| | | | | Hilltops Kitty Kat |
| | | Lupes Cash Kat | | |
| | | | | Silver Cash |
| | | | Miss Cash Harris | |
| | | | | Showkandy |
---