HORSES FOR SALE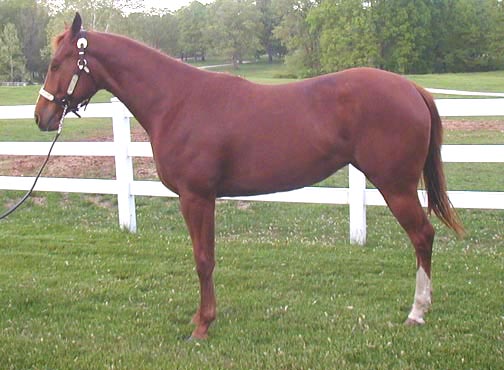 ZIP ON IN KAYLA

"Kayla"

2002 sorrel mare
daughter of Zip to the Topnotch

This mare gives testimony to the grace, intelligence and dispostion that Zip to the Topnotch passes to his offspring. Kayla placed in every class entered during her her two-year-old year, with numerous firsts. To top it off, she was shown by a child, who was also a major player in her training.

Kayla suffered a hip injury during her three-year-old show season and had to be retired from showing. Thus, she was bred in an effort to reproduce her superior movement and disposition.

Kayla has two offspring: Topnotch Tux and Tails, a 2008 gelding by Mr. Coats n Tails,( a 16 hand bay son of Coats n Tails), and A Gucci Zipper, a 2007 bay mare by Guicci Only.

At age four Kayla was cleared by the vet for light trail riding, but she was not expected to be able to return to the show ring. We have ridden her sporadically, and she is still totally broke and has shown no lameness during or after trail rides, or while running around the pasture. In the summer of 2009, we pulled Kayla straight out of the pasture after many months of no riding, and put her through a horsemanship pattern. She did quite well. A video of that pattern is available upon request. Last summer we put a small child on her and she was totally safe.

We are reluctantly offering Kayla for sale as a trail horse or kids horse for light riding, or as a brood mare.


photo at 24 months
height: 15' 0" hands
weight: 850 lbs


current stats (2010)
height: 15'1" hands
weight: 1000 lbs

Sex: mare
Birth date: April 19, 2002
Color: sorrel
Markings: two hind stockings, thin strip
Sire: Zip to the Topnotch
Dam: This Kittys n Style
Pedigree: see bottom of page

AQHA registration: 4228369
HYPP: N/N
Bred to: open
Price: $1,800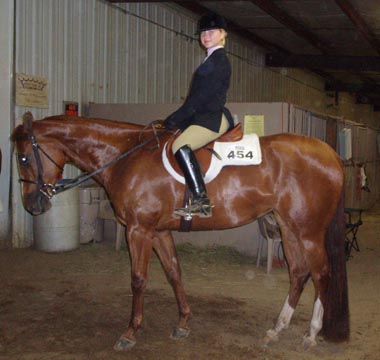 Zip on in Kayla's show record

Three-year-old year show season

shown by Clara Vaughn, age 13


During the 2005 season, at age three, Kayla showed as an all-around horse at AQHA breed shows, competing in Hunter Under Saddle, English Equitation, Showmanship, Western Pleasure, Horsemanship, and Trail. Kayla did not finish the show season due to her career-ending injury.

Kayla and Clara were the

2005
Ozark Quarter Horse Association
Reserve Champions in Equitation and Horsemanship in the Novice Youth division.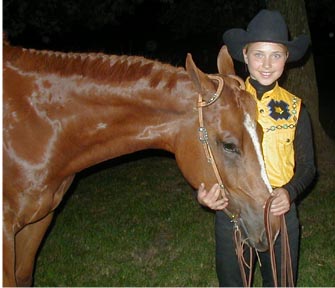 Two-year-old year show season
shown by Clara Vaughn, age 12
South Central Horse Show Association Open Shows
Kayla and Clara participated in three SCHSA shows while Kayla was a two-year-old, competing primarily against adults in Novice Western Pleasure and Junior Western Pleasure and against peers in Western Pleasure 13 and under. After showing in a total of seven classes, they had one blue ribbon, three seconds, and three third places, against fields that averaged eight in a class.
Kayla won her first blue ribbon at age 25 months with just over 30 days of training.
Later, at the Cross Country Trail Rides show in Eminence, MO, they won $100 for taking first of 13 in Youth Horsemanship and another $100 for first of nine in Youth Western Pleasure.

They also took first place in large classes at the Howell County Fair 4-H show and the Willow Springs Saddle Club show.


Photo at left: Warming up in the practice ring at Batesville, AR., during Kayla's very first show, in May 2004. She was very quiet and well-behaved in the ring that day.

Zip on in Kayla's pedigree

---
| | | | | |
| --- | --- | --- | --- | --- |
| | | | | Zippo Pat Bar |
| | | | Zippo Pine Bar | |
| | | | | Dolly Pine |
| | | Mr. Rusty Zipper | | |
| | | | | Baruendo |
| | | | Madam Tiffany | |
| | | | | Rusty Bailarina |
| (sire) | Zip to the Topnotch | | | |
| | | | | Sonny Dee Bar |
| | | | Topnotch Sonny | |
| | | | | Nosey Susie |
| | | Sassy Topnotch | | |
| | | | | King Eternal |
| | | | Sunny Eternal | |
| | | | | Dixie Delmineo |
| Zip on in Kayla | | | | |
| | | | | Zippo Pat Bar |
| | | | Zippo Pine Bar | |
| | | | | Dolly Pine |
| | | Kat Man Zip | | |
| | | | | Tomcat Dude |
| | | | Hilltops Kitty Kat | |
| | | | | Boaz Daisy |
| (dam) | This Kittys N Style | | | |
| | | | | Style On |
| | | | Ever N Style | |
| | | | | Emotions |
| | | Styled N Go | | |
| | | | | Mighty Te Go |
| | | | Mighty Tes Showoff | |
| | | | | Sho Cryin' Shame |