HORSES FOR SALE
---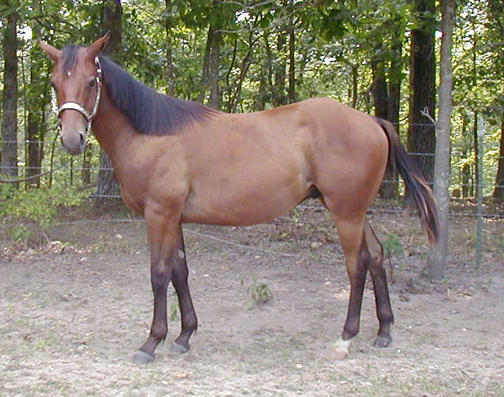 Doc Crackerjack

Crackerjack has been sold. Best wishes to him and his new owners, Frank and Saundra Williams of Cambridge, Kansas.
Crackerjack, a 2002 AQHA bay gelding, is gentle and easy to handle. We've just started him under saddle, and he's doing superbly. Even before we rode him, he knew a lot, like backing up, loading in the trailer, picking up his feet, and going on the longe line.

Crackerjack has a handsome build, with a wide chest and nicely made neck and head. His hind end has plenty of muscled mass, and he's still growing! He shot up more than an inch between February and April, and with his late birthday, he's probably going to be taller than he is now.

This is a pretty horse with good manners, a calm disposition, and a good attitude. He should make someone a fine trail horse, or, with Doc Clabber right on his papers, he's got the breeding to do ranch work.

See more photos of Crackerjack under saddle at A Day on The Trail.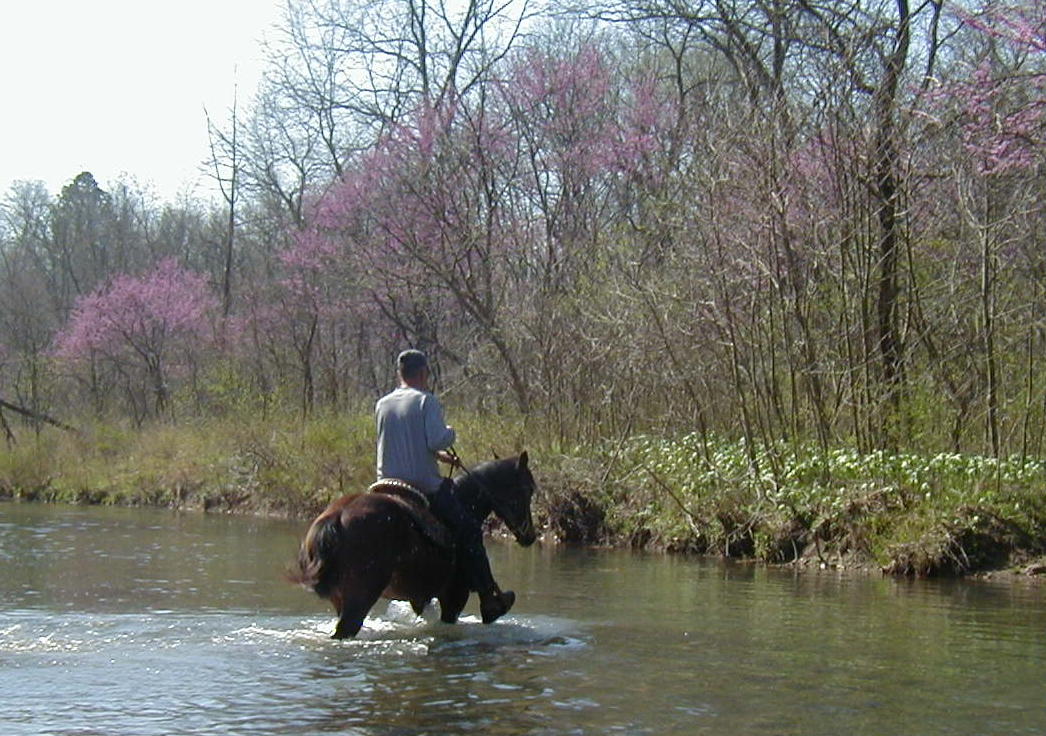 Name: Doc Cracker Jack
Sex: Gelding
Birth date: July 2002
Color: bay
Markings: left hind sock, star
Price: $850
Sire: Texas County Mo Doc
Dam: Brixey
AQHA registration: 4247984
Top photo:
Age: 14 months
Height: 13' hands
Weight: 765 lbs
Photo at left:
Taken April 16, 2004
2nd day of trail ride training
ridden by Gary Thomlinson
Age: 22 months
Height: 14' 1"
Weight: 814 lbs

TRAINING JOURNAL

April 15: This was a big day for Crackerjack. He started out by standing still for the farrier for his first set of shoes, without even so much as a pull-back. He acted like he'd done it before. Then he calmly loaded in the trailer, and we headed to the neighbor's for his first trail ride. We were really pleased with him. We went out for about an hour, 2-3 miles, through woods, a field, crossed the creek twice, and passed any number of odds and ends (like stumps, chain across the road, etc.) that have spooked many a young horse. He only reacted scared to one little thing, and got over it immediately. The rest of the time he was relaxed and willing. This fellow looks like he's going to be easy to break, with good sense and no hint of having a buck in him.

April 16: The second trail ride went just as smoothly as the first, even though this time two dogs went along, running underfoot, chasing squirrels, and crunching leaves noisily. He got used to them very quickly, and they didn't cause a problem. Today we took some photos as we crossed the creek. We were on the trail almost 2 hours. Crackerjack was pretty sweaty by the time we got back, so he got a hose-bath. No, he didn't mind that either.
Crackerjack's pedigree
| | | | | |
| --- | --- | --- | --- | --- |
| | | | Doc Clabber | |
| | | Jim Doc | | |
| | | | Drifter's Doll | |
| | Texas County Mo Doc | | | |
| | | | 4 J Bar Bobelena | |
| | | Jackie Lena | | |
| | | | Rainy Day Paula | |
| | | | | |
| Doc Cracker Jack | | | | |
| | | | | |
| | | | King Yo Yo Reed | |
| | | Hustler Yo Yo | | |
| | | | Hank's Hustler | |
| | Brixey | | | |
| | | | Pawnee Bay | |
| | | Miss Danity Skip | | |
| | | | Danity Rockette | |
---